We design and create premium furniture and functional art using only the highest quality materials.
The distinct grain in each of our live edge and solid wood slabs make for incredible statement pieces. With a focus on simple designs, we let the natural features of the wood do the heavy lifting. Dining tables, coffee tables, living room sets, wall art, entryway decor, shelves, charcuterie boards - whatever it is, we will work with you to create the piece your home has been missing.
Coffee Tables and Living Room Sets
We offer all of our pieces in a variety of styles including single slab live edge, book-matched live edge, single slab square cut (live edges removed), single slab round cut, epoxy river, live edge cookie, solid wood glue-up, solid wood glue-up with live edges, and solid wood glue-up round cut. We stabilize any cracks and voids in our single slab and book-matched table tops with epoxy in order to produce a solid, even, and consistent surface. All pieces are sanded to a high grit and finished with multiple coats of that piece's specific top coat application. This ensures your piece will remain smooth and protected with regular use.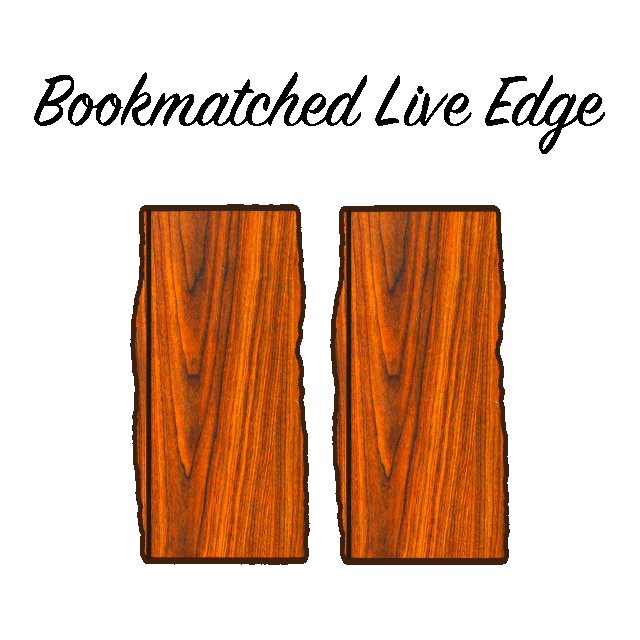 (Each of our single slab live edge tabletops are made using one solid natural wood slab. No boards or glue involved just a few hundred years of natural growth surfaced, sanded, and shaped to size. Cracks and voids are stabilized with clear epoxy unless stated otherwise.)
(Cookie slabs are live edge slabs harvested by taking a cross-cut piece from the log as opposed to cutting parallel to the grain and vertical growth of the tree. This results in a natural wood slab with live edges along the entire perimeter of the piece. )
(Many of the slabs pictured above can be purchased currently but there is no guarantee each piece is still available. We maintain a large, constantly changing, selection of wood slabs in each style. Please submit a brief inquiry form or contact us directly via phone or email to get updates on our most current inventory and pricing.)
Interested in ordering a finished piece? Our team will work with you from start to finish to design and create the piece you've always dreamed of having in your home. Whether it's a dining table to share meals with loved ones or a desk to upgrade your home office, let us create exactly what you need!
We have spent years building relationships with the best hardwood and lumber suppliers across northern and central Ohio. We offer access to a wide range of kiln-dried local and exotic slabs to our customers as well as any wood shops and furniture manufacturers who are in need of high quality wood. If you are looking to purchase live edge slabs (including walnut, oak, maple, hickory) we can fulfill single and bulk slab orders ranging from a more standard grain to highly-figured. Big or small, we can supply the perfect piece you need to complete your project!
While our natural wood slabs and table tops are undoubtedly the the focal point of each piece we create, we believe in spending equal time and energy designing the base and mounting hardware. We will work with you to design and fabricate your base to fit the specifications you need. Whether its a simple flat steel coffee table base, a complex "spider" dining table base, or a basic set of shelf mounting brackets, we will walk you through all of the tubing sizes, colors, and finishes to ensure your base is made exactly as you want it. We also offer individual and bulk steel base and hardware orders in the case that you already have a piece of wood, glass, marble, or concrete you plan on using for the table top.
We're all about quality from head to toe and if you want to be the part you also have to dress the part. Sport the brand with some Live Better apparel. All pieces are designed and embroidered in house. No janky drop shipping here. All pieces should fit true-to-size unless otherwise noted. If you have questions about sizing or you would like to request a restock of a previously offered item please send us an email at sales@livebetterfurniture.com